Fog Sensor ONED 250 (OFS)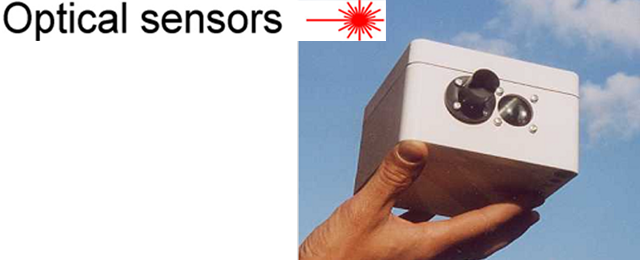 Benefits
Reliable fog-sensor
Low power consumption
Detection limit 5000m visibility
---
Description
ONES 250 (OFS) is a sensor for visibility with a good cost-performance ration with a main application in traffic purposes. Using so called backscatter technique it measures the amount of water particles i.e. fog in the air that limit the visibility.
The design allows the operation in various locations and applications. The validity and the stability has been - so far - resulting in satisfied customers.
How it works optically - backscatter technique:
A narrow beam of red laser light is being emitted at the front end of the sensor. A detector, mounted behind a lens, right next to the emitter detects a zone nearby the laser beam. If there are fog particles in the overlap zone light will be scattered back and reach the detector causing a signal on the sensor raw signal output. The sensitive zone is located about 30 cm ahead of the sensor and its volume is less than 1 cubic centimeter.
In the specifications are being set to a limit of 5 000 meters - which is a conservative setting. Having the sensor frequently checked, cleaned and calibrated, the limit can be set higher - also depending on the required accuracy [% of measured visibility]. The processed digital output provides values up to 10 000 meters visibility but with less accuracy 5 000 meters.
In order to get a value of the visibility a mean value of samples from about one minute are taken, processed and sent to the output. This procedure allows eliminating natural fluctuations, which may not be recognised by the eye.

---
Delivered content
Fog sensor ONED 250 (OFS)
Options
External power supply
Mounting brackets
Rain screen
| PARAMETER | |
| --- | --- |
| Dimensions | 120*120*90 mm |
| Weights: | approx. 1 000 g |
| Warm up time: | approx. 1 minute |
| Current consumption: | 200 mA from a 12 Volt (11-15) (without heating about 60 mA) |
| Outputs: | RS232 2400 baud 8N1, analog 0-5 Volt, optional switch at 1 000m |
| Temperature range: | -20 to +50 °C |
| Laser output power: | > 5mA, laser safety class: 3R |
| Laser wavelength: | 650nm |
| Housing: | IP 65 aluminium box, openings sealed with O-rings |
| Visibility range: | < 10 000 ... 20m |