Simple collectors by NILU - RS 1 and SF 1
Particulate Fallout collector SF 1 and precipitation collector RS 1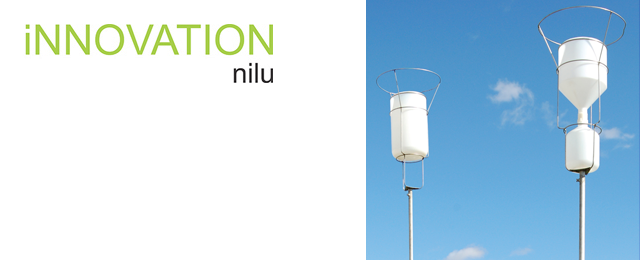 Benefits
Simple collection system with easy installation
Adjustable collection heights from 1,7-2,6 m above ground
Use of high quality materials such as HD-PE and stainless steel
---
Description
The NILU particulate fallout collector and the NILU precipitation collector have been developed to collect representative samples of dry and wet atmospheric particulate fallout for subsequent analysis.
The design and development of the NILU collectors are based on an evaluation of similar equipment in use in various countries, including available wet precipitation collectors for meteorological purposes. In addition to the given performance criteria, factors such as construction materials, ease of handling
and transportability determined the shape and dimensions of the collectors. The fallout collector has been considered by ISO (International Standardization Organization) for adoption as an international reference collector for particulate fallout. Its design is according to the recommendations of ISO as the present use of materials and procedures permit. (ISO/DIS 4222.2).

The mounting stand can be used for both collector types. Its design allows both collectors to have the same position relative to the bird ring. The stand is adjustable in height so that the collectors can always be adjusted to the prescribed height above ground (for instance when the snow depth varies), and to facilitate the changing of collectors. The precipitation collector is not designed to be used in freezing conditions. During freezing conditions, when the evaporation losses are low, the fallout collector can be used as precipitation collector as well. In addition the sampling capacity is larger.
---
Scope of supply
SF 1, Particulate fallout collector complete
1 pc p.no. 9721, Fallout Collector
1 pc p.no. 9723, Lid
1 pc p.no. 9724, Steel ring
1 pc p.no. 9729, Telescope
1 pc p.no. 9730, Basket
1 pc p.no, 9728, Ground Spike
RS 1, Precipitation collector complete
1 pc p.no. 9722, Precipitation Collector
1 pc p.no. 9723, Lid
1 pc p.no. 9724, Steel ring
2 pc p.no. 9725, 2.5 litre bottle
2 pc p.no. 9726, Screw cap
1 pc p.no. 9732, Bugsieve
1 pc p.no. 9727, Funnel - Bottle Adapter
1 pc p.no. 9731, O-ring
1 pc p.no. 9729, Telescope
1 pc p.no. 9730, Basket
1 pc p.no. 9728, Ground Spike