SD-card data logger
Easy data retrieval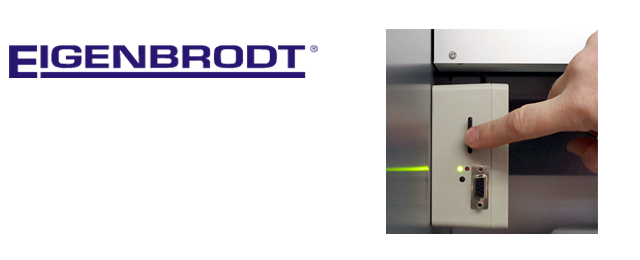 Key benefits
Easy data retrieval without the need of a laptop
Larger memory up to 16GB possible
Programming through serial port in sample room
---
Description
The all new SD-card data logger allows in combination with Eigenbrodt signal PCBs to log the data sets on SD-memory cards. This allows retrieving the data simply by replacing the SD-card.
The unit is easy to operate: Just push in the SD-card and the logging file is automatically been created. All data from this point of time will be written to the SD-card. In case the file already exists, the new data will be added at the end of the file.
The file is logged in text format and can be opened with most file editors. A built in serial port allows programming the Eigenbrodt signal PCB from the sample room.
The SD-card writer can be retrofitted to all Eigenbrodt precipitation collectors and monitors with built in signal PCB serial or memory.

---
Scope of supply
Data logger for Eigenbrodt signal PCBs
RS232 interface to program Eigenbrodt signal PCBs
SD card minimum 1 GB storage capacity
Options available
RS232 <--> USB port adapter cable
Larger SD-cards
---