Collection funnels and filters
For all applications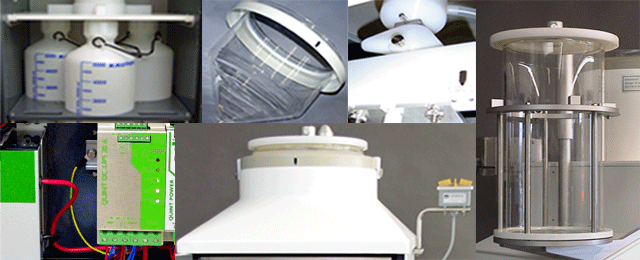 Key benefits
Big collection surface with 500 cm² (490 cm² for DURAN-glass funnel) allows the collection of sufficient samples even with low precipitation intensities.
Suitable funnel material for most applications
Collection surface 500 cm² (490 cm² with DURAN-glass) according to WMO (World Meteorological Organization)
Smooth surfaces allowing easy precipitation drainage
Easy to remove for service
---
Description
Collection of precipitation for analyzing organic components as well a mercury in the precipitation, the choice of the best fitting contact material like sample funnels is very important. In these cases PTFE and DURAN-glass, in some cases also stainless steel are preferable to HD-polyethylene. Collecting precipitation for acidifying components HD-PE is seen as the appropriate contact material to the sample. Eigenbrodt has developed a complete series of collection funnels to fit the collector the application.
Those funnels are available for the collector types NSA 181, NSA 181/K, NMO 191, UNS 130 and BUS 125 with 500cm² collection area (490 cm² with DURAN-glass), which provides good collecting capacities of nominal 50ml sample per 1mm of precipitation.
The models BUS 100 and NSA 171 come with smaller collection funnels out of borosilicate-glass as they follow specific norms and guidelines.
---
Scope of supply
Bottles out of DURAN-glass
Hoses in contact with the sample out of PTFE
Distributor elements being in contact with the sample out of PTFE
Options available
Configuration "E-DURAN": Single sample bottle 5 liters, alt. 10 liters
Configuration "D-DURAN": 2x sample bottle 5 liters
Configuration "T-DURAN": 3x sample bottle 5 liters
Configuration "S-DURAN": 9x sample bottle 1 liters
Configuration "S16-DURAN": 9x sample bottle 0,25 liters
---