Precipitation sensor (monitor)
Sensors to detect start and end of precipitation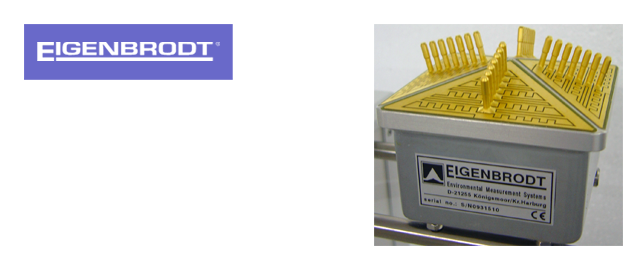 Key benefits
Fast and precise reaction up to detection of single drops
Rugged construction for reliable operation for many years
Different types available - optimised for the use also at special sites (mountain, sea/off-shore, industrial areas ...)
---
Description
Many applications require a reliable detection of precipitation begin and end. The signals are either used to control and trigger other devices or to log the data accordingly. Eigenbrodt precipitation sensors (monitors) are being used all over the world and in all climate conditions and special sites.
National weather service and other authorities like the EPAs trust in Eigenbrodt technology to detect precipitation like drizzle, rain, hail and snow. All Eigenbrodt wet-only precipitation collectors and acid rain monitors are in standard equipped with the RS 85 sensors.
Some sites or applications require special designs; therefore Eigenbrodt is able to supply a complete line of precipitation sensors also to satisfy special needs.
---
Scope of supply
Precipitation sensor with 1,5m calbe (standard)
Options available
Mast and wall mounting
Additional cable length
Power supply (230V AC; 110V AC)
Function
RS 85/ RS 85 OP
NRS 80
IRSS 88
Detection principle
electrical conductivity
electrical conductivity
dual-beam IR sensor
Switch on
without delay
without delay
without delay after 5 drops within 90 seconds*
Switch off
with delay, adjustable 0 to 270 sec in 30 sec steps. (not with collectors)
with delay, adjustable 0 to 270 sec in 30 sec steps. (not with collectors)
without delay after 0...4 drops within 90 seconds*
Sensitivity
0,05 mm/h
0,05 mm/h
5 drops within 90 seconds*
Detection surface
60 cm²
40 cm²
30 cm²
Signal
opener/closer potential free
opener/closer potential free
closer potential free
Switch supply
max. 100V DC / 250V AC
max. 100V DC / 250V AC
max. 50V AC
Switch current
max. 5A
max. 5A
max. 0,5A
Switch power
max. 1250VA
max. 1250VA
max. 120VA
Dimensions
83 x 83 x 85 mm
80 x 75 x 60 mm
275 x 185 x 85 mm
Weight
0,7 kg
0,4 kg
2 kg
System of protection
IP65
IP65
IP65
Specialities
snow catchment pins for snowy sites (RS 85);
sites with few or no snow (RS 85 OP)
sites with few or no snow;
economical applications
low power requirements; coastal and off-shore sites
* Optional available for the IRSS 88: DEU (drop evaluation unit). This unit allows to modify the number of drops and interval length. Also an immediate detection after the preset number of drops will be provided within the ongoing interval.
- selectable events: 1…9
- selectable interval length: 30…300 sec in 30 second steps
---